How to Tell Your Partner You're Pregnant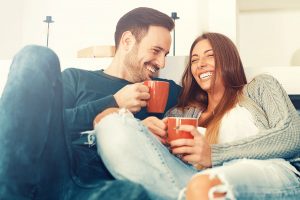 The thought of telling your partner you're pregnant can certainly bring a rush of emotion. If this was an unexpected pregnancy, sharing the news can be particularly nerve-wracking. You may be wondering how to bring up the discussion, where to tell him, and what to say.
Below are a few suggestions on how to tell your partner you're pregnant.
Tell Him You're Pregnant Face-to-Face
Put yourself in his shoes and imagine receiving life-changing news — by text. When you see the positive pregnancy test, it's tempting to want to tell him right away by phone or text, but this is a really important conversation that needs to happen face-to-face.
By sharing the news in person, you can see his facial expressions and hear his tone of voice. You can tell if his body language matches his words. You also have the valuable opportunity for physical contact that you wouldn't have if you texted your boyfriend. Depending on how you're both feeling about the pregnancy, you can express your emotions from hugging to dancing.
However, we understand that there are circumstances preventing face-to-face encounters. For example, it may not be feasible to meet in person if he is deployed in the military. In this instance, the next best option is to tell him you're pregnant through FaceTime or Skype.
Another reason you might not meet face-to-face is if your partner has a pattern of anger and an uncontrolled temper. If you think there's any possibility that he could react in a way that jeopardizes your safety, don't give him the news alone. Bring a friend along, tell him in public, or tell him over FaceTime or Skype.
Show Him Your Pregnancy Test
As crazy as it sounds, your partner might think you're joking when you share the news. To show him you're serious, show him the positive pregnancy test.
One reason he might think you're joking is from the shock of such big news. When you looked at your test results for the first and second time, it probably seemed unbelievable. It will feel the same way for your him. Anytime you question if this is really happening, you have the benefit of feeling the sore breasts, nausea, and cramps that come with early pregnancy. Your partner doesn't have the advantage of feeling the physical signs of pregnancy to help him accept reality.
Another reason he might think you're joking about being pregnant is because of all the fake pregnancy jokes we see on social media. It will definitely cross his mind if what you're telling him is real, so show him your positive pregnancy test or pregnancy verification paperwork.
Choose the Right Setting
Telling your partner that you're unexpectedly pregnant is huge news that needs to be shared with plenty of privacy; your home or his home could be good options. You definitely shouldn't have this conversation in a café or bar. Exceptions to this would be the situations we described under the "Tell Him Face-to-Face" heading.
Revealing the pregnancy to your partner is not a conversation to rush, so choose a period when you have plenty of time to process the news together. Most women learn about their pregnancy first thing in the morning after taking an at-home pregnancy test.
It's natural to want to share the pregnancy news with your partner right away. But if one of you needs to leave for school or work, it's best to wait until later in the day so you can stay together and maybe talk through how you're both feeling if you're ready.
Be Direct and Avoid Negative Phrases
It's definitely not your job to manage your partner's response. But you can do things to set the tone when you start the conversation to tell your him you're pregnant. Avoid starting your conversation by telling him you have bad news or that the worst thing has happened.
You can start by saying, "I missed my period, so I took three pregnancy tests. They are all positive. I'm pregnant." When you phrase it like this, it gives him facts and takes away ambiguity. It's clear what you're telling him, which he needs.
You're Not Alone
The truth is that regardless of what type of birth control you use, it's not going to be 100 percent effective. Almost half of the pregnancies in the U.S. are unexpected, so many women just like you are having these conversations.
Hopefully, your partner will respond in a supportive way, and you can work through your next steps positively. But regardless of his response, you are stronger than you might feel right now, and you can get through this tough decision empowered with clarity.
We Care and Can Help You
Are you experiencing an unexpected pregnancy? At Thrive STL, we understand how confusing it can be to figure out your next steps. Our licensed medical professionals and advocates provide the unbiased information you need to make an informed decision about your pregnancy. We offer low cost/no cost confidential services. Make an appointment today.