Free Pregnancy Test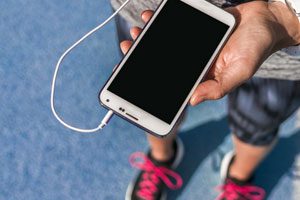 You think you might be pregnant. What do you do? Who can you turn to? Where do you go? It can be a time of panic, or of denial, as you may be thinking, "This can't be happening."
Home pregnancy tests can be expensive and occasionally unreliable, especially if they are expired. Besides, when you're standing in front of the dozens of different brands of tests at the pharmacy, how do you know which one you should buy?
Thrive St. Louis is a free pregnancy test center that will take the guesswork out of it for you. Come in once you are 28-31 days from your last period—this helps make sure the test is accurate.
Getting Started
While we do have some space for walk-ins, we suggest you make an appointment. Your information will be kept 100% confidential.
Our free pregnancy tests are laboratory-quality so that you can be sure. Home tests aren't error free and a woman who has polycystic ovarian syndrome (PCOS), or who doesn't get regular periods, may have low levels of hCG that won't trigger a positive on a home pregnancy test.
What Comes Next?
After a positive pregnancy test, a good next step is to have an ultrasound. Not all pregnancies are viable and not all positive results are accurate. An ectopic pregnancy, for instance, will still cause a positive pregnancy test. But this type of pregnancy isn't viable and can be life threatening. In this case, an ultrasound could save your life.
On the other hand, hormone spikes and prescription medications can cause false positives as well. An ultrasound will confirm a pregnancy, helping you move on to the next step. ThriVe St. Louis offers free ultrasounds as well.
STD/STI Testing
Sexually transmitted diseases and infections that go undiagnosed and untreated can cause serious problems, especially if an abortion is performed. In those cases, it can lead to Pelvic Inflammatory Disease (PID) and that, in turn, can lead to infertility and other problems later on.
It is estimated by the Centers for Disease Control that nearly 20 million new, sexually transmitted infections occur each year. They also estimate that undiagnosed STDs cause infertility in more than 20,000 women each year. We offer free STI testing to make sure that you're healthy, no matter what your pregnancy decision is.
Ongoing Services
The staff at Thrive St. Louis is compassionate and won't judge you. Having someone who cares can help you to find that inner calm and help you look at your options more clearly.
Our goal is to offer assistance, advice and resources, giving you the answers and the time you need to make a decision that you are confident is the right one.
Contact us today to learn more about the services we offer or make a free, confidential appointment with our team.