The One Time It's Okay To Get Into A Stranger's Van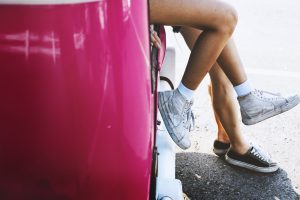 We know what you're thinking…we've got to be crazy, right? Well, we're not talking about just any stranger's van. We're talking about ThriVe's Mobile Medical Centers!
WHAT'S INSIDE?
It might seem sketchy, but we promise it's not. Our Mobile Medical Centers are like a miniature version of a medical exam room. They have everything we need to offer you a pregnancy test, STI testing, and even an ultrasound. Yes, we can fit a medical exam table, an ultlrasound machine, and even a private bathroom inside our "vans!" Our Mobile Medical Centers are just as colorful on the inside as they are on the outside! They're styled after our regular centers – with bright colors for good vibes.
WHO'S INSIDE?
When you enter one of our Mobile Medical Centers, you'll be greeted by members of our friendly medical staff! We always have at least one medical personnel (registered nurse or  registered sonographer) and a patient care advocate on board. Our larger Mobile Medical Centers have a driver up front as well. The staff in our "vans" are no different than the staff in our regular centers! Protocol is the same, too! So you'll be receiving HIPAA and state law compliant medical care.
HOW LONG DOES IT TAKE?
The average amount of time a patient spends in our Mobile Medical Center depends on the services she receives. If you're planning to get tested for STIs (sexually transmitted infections), you'll spend an average of 25 minutes inside. For a lab quality pregnancy test, plan to be inside the Mobile Medical Center for 25 to 35 minutes. If you're getting an ultrasound, the process usually takes about 1 hour to 1 hour and 20 minutes.
WHY A VAN?
While we do have three convenient locations, we wanted to make things even easier for you! Our goal is provide free express women's healthcare services, all while building healthier communities. So, we wanted to the ability to travel to communities all over the place! Also, some people don't have the transportation to make it to one of our regular locations. Not having transportation shouldn't keep women from receiving the healthcare services they need! That's why we meet you where you're at.
See? Getting into a Mobile Medical Center isn't so scary after all! Next time you see one of our "vans" in your community, stop in for free services to see for yourself.