Do This FIRST For Your Most Successful Day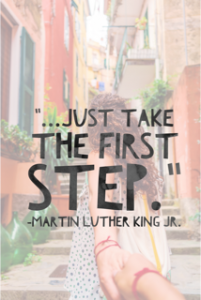 "You don't have to see the whole staircase, just take the first step."
~Martin Luther King, Jr.
Sometimes good things start slow; pots of water gradually come to a boil, roller coasters crawl up a hill before letting loose on the curves, spring buds cautiously pop out before coming into full bloom. There is so much in humanity and nature that loves a warm-up period before the main event.
But when it comes to things like submerging in a cold pool of crisp water, it's best to dive right in.
In the recent article "7 Things Successful People Do Every Morning That Help Them Become Their Best Selves All Day Long", Benjamin Siegal, Assistant Professor of History at Boston University, suggests making the most important item on your to-do list the FIRST thing you tackle in your day.
Can you relate to that feeling of a 'huge' task looming in your mind? How often do you find that, once you face it head-on, it wasn't actually as intimidating as you thought?
To feel like you can accomplish anything (and we believe you can!), try to start tomorrow by identifying your most important task of the day – maybe it's the most urgent thing, maybe it's the most time-consuming thing, maybe it's the most intimidating thing – and then feel the freedom and exhilaration of having knocked it out by breakfast (ok, maybe eat breakfast first. It's hard to conquer the world on an empty stomach).
Status Check
For women who have been putting off their status-check, we make it simple: Stop into one of our medical centers (or you can make an appointment here) and we'll cross STI testing off your list for free.
Don't get bogged down by endless lists and excuses about why it makes sense to put things off for later (rationalize much?). Follow Martin Luther King Jr.'s advice and take the first step. Make it an important one. And then tell your day to watch out…you just dove in, and there's no stopping you now!